COMM 483 - Leadership and General Management (formerly COMM 486R)
The Course
COMM 483 is designed to be a transformative and personal experience. It is a leadership course modeled after Harvard's first year MBA program and led by Professor Adel Gamar.
In this course, leadership is viewed not as a position but an art that is accessible to anyone committed to developing and refining their practice. Learning is a vital component to the art and practice of leadership. It is a noble path that demands integrity, collaboration, and empathy. To inculcate a learning environment, students forge a community bound by collective trust while ensuring psychological safety for everyone.
Through case studies, class discussions, and guest speakers, students grapple with complex challenges that include business, management, policy, and strategy. The course covers a wide range of topics and will be balanced with student experiences and interests reflected in the diverse cohort that this course attracts.
This course aims to help prepare students for the challenges of leadership in an adaptive, interconnected, and inclusive world. In 2022W, guest speakers included Irfhan Rawji (founder and CEO of MobSquad), Tamara Vrooman (CEO of YVR), Paul Clinton (founder of Everything Wine), and Carolina Larriera (former UN Diplomat).
COMM 483 is worth six credits and is taught over six weekends in Term 2. Over the term, students will be required to analyze approximately 35 cases, write a 10-page self-reflective essay, complete 4-5 group assignments, stay up-to-date with current events, and actively participate in the class discussions. The summer before, you will also be required to complete various readings on leadership.
There is one off-campus class retreat and an active social aspect to the course.
The Students
The true value of the course comes from the students who take part in it. We are looking for the most imaginative, ambitious, hardworking people who will be in their third year or above in Term 2 of the 2022 Winter Session (January to April 2023).
Students who believe they offer something 'different' are encouraged to apply.
Note: COMM 483 has a heavy course load. We encourage you seek out alumni and ask them about the course.
Student Testimonials
For student testimonials, COMM 483 alumni helped create this video.
Learning objectives
The objectives of this course are:
to become self-aware of and develop one's ability to exercise leadership.
to integrate and apply knowledge gained from previous business courses to business cases.
to learn to absorb and analyze information to make business decisions.
to improve verbal communication and presentation ability.
to improve one's ability to collaborate with others.
to actively learn from the experiences of classmates and community leaders.
Application information
We are pleased to announce that the application for COMM 483 Leadership and General Management is now open. The application deadline has been extended to Thursday, September 29, 2022, at 11:59pm PT.
Please send this completed application document as a PDF and your resume to COMM483@sauder.ubc.ca by the deadline above.
Note: The extended deadline is only available for new applicants. If you were sent a confirmation email that your application has been received, please do not apply again.
For latest course updates, please join our Facebook group. Interviews are tentatively scheduled for October 7-8th. For any questions, please contact the Course TAs, Julie Hui and Megan Polishak, at COMM483@sauder.ubc.ca.
About the professor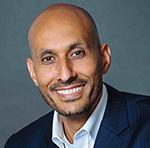 Adel Gamar is CEO of a boutique consultancy specializing in adaptive leadership, organizational strategy, and change management. Over the course of his career, he has advised senior leaders of Fortune 500 companies, nonprofit organizations, and governments worldwide. He is a former policy fellow at Harvard Law School, UNESCO Education Specialist, and taught adaptive leadership and negotiation at Harvard.
Gamar is Board Chair of Douglas College and cofounder of The Gamar Foundation, a nonprofit that aims to inspire, empower, and connect young people to make a positive difference for the greater public good. He holds an MPA from Harvard and a B.Ed. from the University of Calgary.
Note: COMM 483 was formerly numbered COMM 486R. The two courses are equivalent. You may only receive credit for one, not both. Three of the six credits for COMM 483/486R can be applied to the Year 4 capstone requirement (one of COMM 486M, COMM 491, COMM 492, COMM 497, COMM 498). Please see program requirements for more information.