My Career Roadmap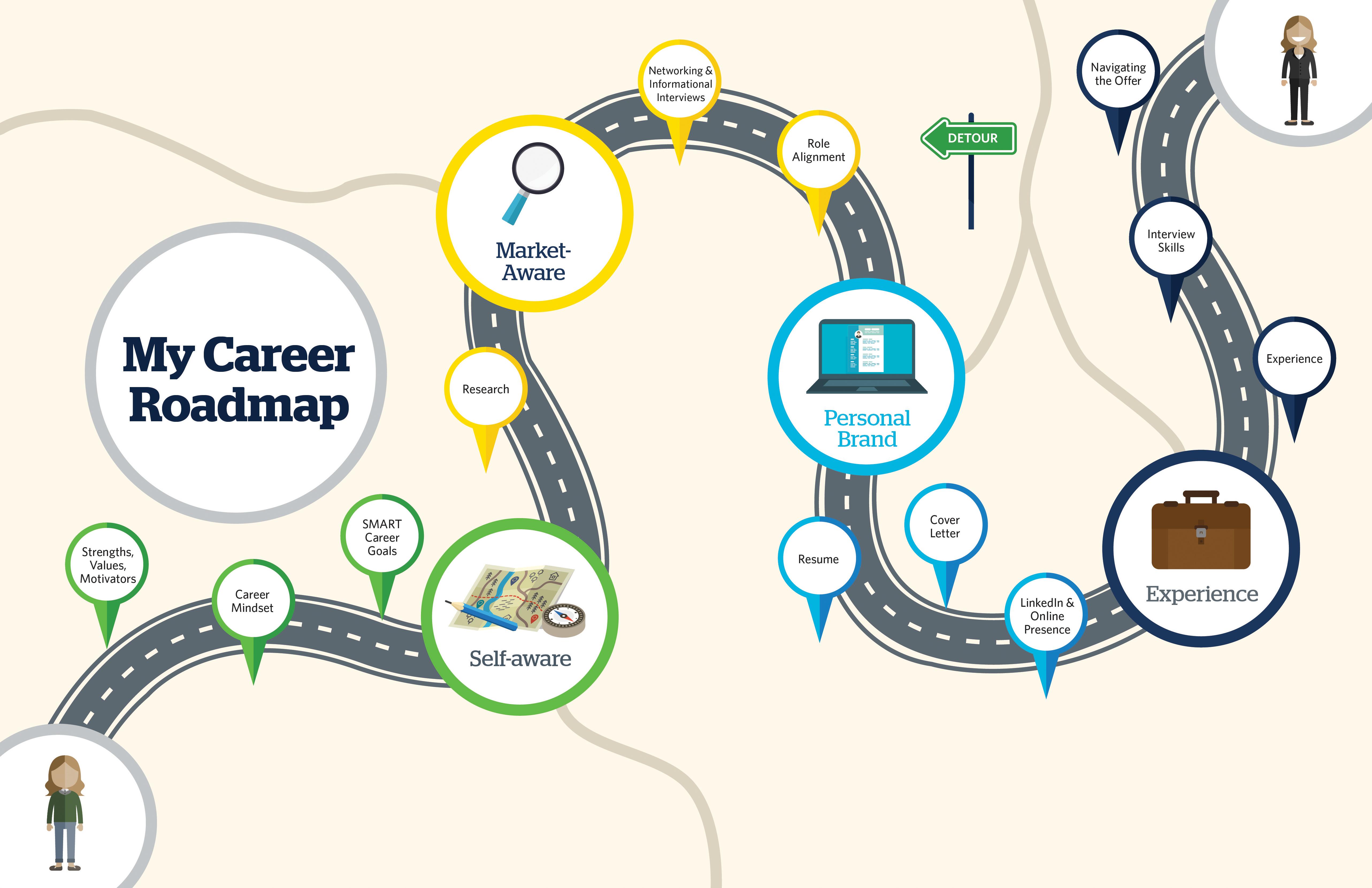 The path each person takes from UBC BCom degree to a career will be different. For some, the path may be a series of linear and logical steps, but for others the journey can be messy and filled with ups, downs, and surprises. Regardless of the path, it's a process of exploration, trial and learning.
Every day at UBC Sauder is an opportunity to learn about yourself and what you find rewarding in a potential career. Explore your options. Try different things. Meet new people. And learn as you go. Give yourself time to figure things out and permission to change directions if needed. There's no 'typical' career path, so celebrate the detours and say "yes" to new opportunities.
The good news is that you don't have to have all the answers right now – and you don't have to go it alone. Your BCom Careers team at the Hari B. Varshney Business Career Centre, your classmates and UBC Sauder alumni are here to help.
Career Toolkits
We have designed Career Toolkits specifically for UBC Sauder students to develop career-ready skills employers are looking for. Based on competencies defined by hundreds of employers as well as career development expertise from UBC Sauder's Hari B. Varshney Business Career Centre, these guides give you the resources to feel comfortable, confident, and capable in your career, with everything you need to be successful to find your ideal career.
The Career Toolkits aren't a magic bullet: you won't get a job by simply reading each one cover-to-cover. But, if you commit to doing the exercises, with authenticity, effort, and follow through, you will discover your path, find your ideal career, and get hired.


CWL login required to download Career Toolkits PDFs.


Self-Awareness

Strengths, Values and Motivators (PDF) 
Why self-awareness is key to your career DNA.


SMART Goals (PDF) 
How to set and achieve to your personal and professional goals. 



Career Mindset (PDF)
Develop your emotional intelligence and growth mindset, two vital human skills that are critical to career success.

Market-Awareness

Career Research (PDF)
Tools and resources available to help you explore different careers of interest. 


Networking & Informational Interviews (PDF)
Make connections and learn about potential career paths.


Role Alignment (PDF)
Ensure your career goals are aligned with your background and values.

Personal Brand

Resume (PDF)
Communicate your transferable skills from your experience and education.


Cover Letter (PDF)
Use stories to demonstrate that you have the skills and desire for the job.


LinkedIn & Online Presence (PDF)
Develop your online brand using LinkedIn and social media.

Experience

Experience (PDF)
Confirm you have the experience needed for the career you want.


Interviewing (PDF)
Design your pitch and tell your story in a face-to-face conversation.


Navigating Job Offers (PDF)
Review employment standards and be prepared for salary negotiation.
How to use Career Toolkits:


Start with the competencies that resonate with you most, regardless of the order. There is no one linear path to your career.


Already taken COMM 202? The roadmaps complement everything we do at the career centre, including COMM 202: Career Fundamentals. Use them to refresh the skills you developed in class and take them to the next level to find your ideal career. 


Designed to fit your busy lives. Download the toolkits and work through the content at your own pace. The goal is to empower you to take your career development into your own hands outside of the classroom and outside of the Henry Angus building.


Stuck on where to begin? Start with you. A meaningful career aligns with your values, strengths and interests. Understanding that is a good first step in your career journey. Consider starting with the Strengths, Values and Motivators Toolkit. 
Questions? 
Contact your BCom Careers Team. We're always here to help. 
Email bcomcareers@sauder.ubc.ca
Phone 604.822.6479
In-person HA 155